Next meeting
New chairman, and change to Brohn lunch

Tim Bond, below, was elected chairman of Prospect at the 2021 AGM. He replaces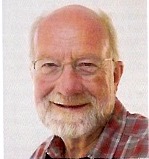 Malcolm Gamlin, who retired after 13 years in the role. Malcolm was thanked for his hard work. Mick Broggio resigned as secretary but volunteer Martin Webb was co-opted by the committee in July. Other committee members were re-elected at the AGM. Penny Brohn has invited us on July 27 but the arrangements have changed: 1130  arrival and hot drinks. 1200  Speaker: Marcus Hempel, a Penny Brohn Well-being Therapist and also a Shiatsu Practitioner. Marcus is a core member of the small well-being team that leads all online services offered to Penny Brohn clients worldwide. 1300 lunch. 1400 opportunity to walk around the grounds. A £10 donations towards lunch is voluntary. To book ring Tim Bond 07824 556786. If he's am not available, leave a message about the number of places being requested. Tim will confirm your booking. The October 8 walk at Lansdown will be 'on' too. Zoom 'coffee mornings' are under discussion and might re-start at the Macmillan centre, Southead Hospital, if they agree.
Learn about a variety of topics
A free webinar series is being launched called Living Well with Prostate Cancer.  Prostate Cancer Research is running it in collaboration with Tackle Prostate Cancer, and it will run from next month (August) to January 2022. It includes 18 topics (including nutrition, clinical trials, the NHS, resilience and wellbeing, and everything in between!) – all subjects that people want more support with. Apply here
Enzalutamide (Xtandi) approved

Important news from NICE for the 4,100 men each year who are unsuitable for the standard treatment of docetaxel chemotherapy and who have, until now, had limited treatment options (June '21).  More here:
Study into black men's higher risk
In partnership with Movember, Prostate Cancer UK is funding a study to help find out why black men are at higher risk of PCa than other ethnic groups. More here
Research into advanced PCa



Prostate Cancer Research is to fund five new research projects into advanced PCa. It thanked everyone who has continued to support them throughout the pandemic. The projects will target signalling to stop cancer spread; target sugars to stop cancer spread; investigate the proteins that drive cancer spread and treatment resistance; develop software to predict which cancers will return and explore the link between fat and PCa.
Help with hearing problems



For anyone with hearing problems, this equipment is useful to amplify sound via a computer. It plugs via the USB cable and makes it easier to hear folk say on Zoom calls: Sennheiser EPOS SP 20 speakerphone. More here
Advanced US PCa tool approved



The US Food and Drug Administration has approved a new imaging agent to detect PCa after it has spread, the makers say. But it will not replace the PSA test (Jun '21). See more here
New vaccine 'could prevent PCa'
Dogs sniff out worst cancers
Dogs can detect the most aggressive forms of PCa and could help develop a "robotic nose" to find the disease, a study says  (Feb '21). More here. And another study suggests daily coffee drinking lowers PCa risk, (Feb '21). More here
Take part in surveys
Prostate Cancer Research ask for your participation (from home) in surveys. People affected by PCa are instrumental in shaping what they do, so they've launched two patient-centred projects. They're also running a special  survey with Ipsen UK&I to understand topics that patients find most tricky to talk about. More here
Drugs to fight cancer resistance
The world's first drugs designed to stop cancer cells becoming resistant to treatment could be available within a decade, scientists have said (Jan '21). More here
Urine test detects PCa

A new technique detects PCa with almost 100% accuracy within 20 minutes using only a urine sample (Jan '21). More here
Bone scan breakthrough



A new bone scan technique can identify men with advanced PCa who'll benefit from radiotherapy. This ground-breaking achievement could help extend the lives of 25-30% of such patients (Jan '21). See more here
Good news re Olaparib



Olaparib has given new hope to men with incurable PCa, says the Daily Mail in this article.
Big change in PCa diagnosis
The biggest diagnostic development in PCa diagnosis for 50 years – that came about when NICE advised that all men at risk of PCa should have an MRI before a biopsy. The change has had a worldwide effect. See more here
Cancer blood test trialled

A blood test which might be able to detect 50 cancers is being trialled by the NHS (Niv '20). More here. And two professors have made a discovery that could turn cancer into a treatable disease (Sept '20). See more here. And minscule robots can seek out cancer.cells and destroy them More here
Check your risk in 30 seconds!
An online 30-second risk checker has been launched which men are encouraged to take –Â  see here
Good news on abiraterone



NICE agreed to an appeal by Prostate Cancer UK to reverse its decision to restrict abiraterone for advanced PCa (Jul '20). See more here. UK deaths from PCa exceeded 12,000 in 2019 for the first time and it overtook breast cancer as the most common cancer (June '20). See more here. And a new type of immune cell which kills most cancers has been discovered. More info here  Screening: An expert explained why finding a suitable method is vital but is difficult. More here